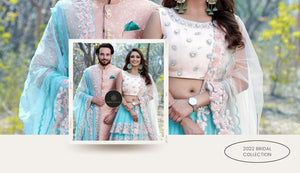 2022 Bride & groom
X clusives
A sneak peek at our latest designs for the upcoming wedding season down below.
contact
Custom Design Service
One of our most passionate lines of work is designing custom ensembles. Since our inception in 2004, we've successfully coordinated countless custom projects inclusive of bridal wear, wedding wear, cocktail gowns, and men's formal wear, and it is a major part of who we are. With you steering the cart, Savi, Ishita, and the rest of our close-knit team of designers will begin crafting your personalized silhouette to the scale you desire. From brainstorming concepts to logistical planning, and finally putting pen to pad, the process comes together rather seamlessly and often a lot sooner than expected!
the
mesa
His sherwani comprises of katan silk, chanderi, and a matka silk base with aari and zardozi. Features an incredible defined combination of sherwani, kurta, Churidar, kamarbandh, stole, and juttis.
Her Patiala suit features a rich ethnic palate comprised of zari, mirror and sequin embroidery throughout the set.
Purplful
Pride
This design scheme features an emphasis on a trinity cuff motif. The ladies silhouette is flush with zari sequins and trinity cuff detail lnterlaced between. The men's silhouette honors the theme with grand embellishments matching hers. Fabrics include Chanderi, Georgette.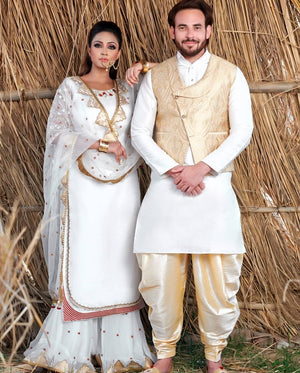 Field
of Gold
Her silhouette in extremely fine Eri silk features a multi-tier kameez, each layer with unique embroidery to complement the entirety of the dress and layered Sharara bottoms. His, features a contemporary jacket in Chanderi with brocade and zardozi embroidery, paired with a matching Kurta in silk and raw silk Dhoti pants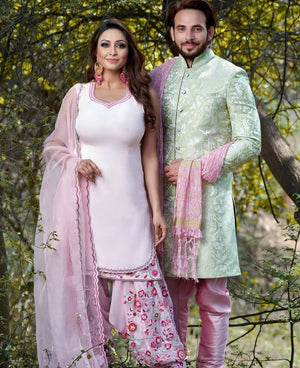 HERE'S HOW IT WORKS:
1. We'll start the process by booking you in for a Consultation, virtual or in-person 
The meet & greet involves getting to know what it is you've mapped out in the early stages of the process, your style preferences, your vision for the dress, and designs you could latch onto, key theme points, event location & setting, occasions to cover (engagement, mehndi, wedding ceremony, cocktail, etc.), silhouette types to consider, the number of outfits (him and hers), timetable, and budget.
2. Next, we'll come together towards finalizing your design
Sometimes this comes about right away, or it may take some time to take shape just right... It all depends on the level of specifics required, and we welcome it! Once we've gone over the final design and you're completely pleased with it, the next step will focus on getting your sizing just right. This could require more than one fitting session depending on how far in advance the occasion the project is started. In case we've had a few too many jalebis (I, for one, couldn't blame you.). Our designers then begin transitioning from conceptualizing to putting it into action. 
3. Production
This is one of the great advantages of our service. As soon as the making of the dress is underway, the time it takes to complete is only 2-4 weeks. Typically, the Bridal outfits will take longer, but will always be completed within the timetable provided. (We often recommend reserving at least a month between the completion of the outfit and the actual time of the event to avoid last-minute adjustments.) 
4. Voila! 
Looks like the wait is over. The newly made silhouette is up for its final review, packaged delicately, and shipped to our store to be handed over to you. The final sizing session is the big moment in the process and literally the most rewarding part of the process for us! Finally, the dress is unveiled. And your personal reaction to it is always a cherished, shared experience for everyone involved.
Custom Order Collection