Custom Dresses - Behind the Scenes
Making a custom dress is a fun, wild race to the finish with its share of twists and turns. During the planning stage, our customers get to pick out every attribute of the silhouette down the intricate details. We've taken on numerous projects big and small over the years and here's a look at some of our most recent...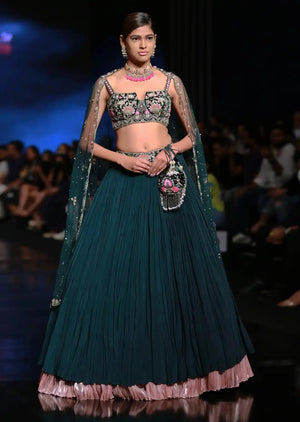 Sunitha's Dress...
A Pine Green Lehenga
Complete with multi-level weaves and floral themed embellishments
Project Start: JAN 17.22
Completed: FEB 4.22
Sunitha request was simple: Make her this dress. About a year ago, she had found this stunning runway silhouette, but it was no longer in production. So, we immediately went to work...
Sketching and Production
Once every detail was drawn out by the artists our focus was on finding the perfect fabric for her.
Sunitha's dress
In the workshop
This adorable little girl couldn't stop smiling and dancing in her new delicately handmade gown. Yasmin and the team were asked to make a matching dress for Balvi to her mom's. The fabric is a soft silk base layered with a net finish.
order inquiry
Sharan's Bridal Lehenga Gown
Sharan left the creativity of her primary wedding dress entirely up to us, with her only wish for it to be the highly decorative, lavish, and elegant... and we just wanted to blow her away!
After careful planning, Yas, our Lead Designer, and the design team in India went to work on a floral motif in traditional red and gold we felt complimented her and the groom, and the wedding theme the exquisitely. The final stance came to 279 individual pieces of adornments flush from head to toe.
Congratulations to Sharan and Palvinder! Thank you two for letting us be a small part of that incredible day.
PROJECT START: OCT 20.21
COMPLETED: NOV.26.21
Credits: Mani Fab Photography
Sharan's dress
Glammed & Geared up
Currently in the workshop
a bridal gown
Yasmine and the team have just completed the blouse and dupatta. Still a long way to go but it is coming alone great!
The team carefully embroidering the dupatta
With the Dupatta nearly complete, the team will be onto the lehenga soon. More to come.
this is a running blog...
Custom Dresses - Behind the Scenes
---